The early stages of a plant's life are as important as the early stages of a baby's life. 
Neglecting a plant during its early growth stages can lead to serious issues later on. And just like with babies, proper care and attention are crucial for a successful outcome. That's why efficient farm nursery management is a must for a successful harvest. 
But let's face it, managing a farm nursery can be overwhelming and challenging. That's why we've put together a list of ten tips and techniques that can help you achieve optimal results in your farm nursery. So, get ready to learn some valuable tips that will take your farm nursery management to the next level.
Now, you might be wondering – why do we need all these tips and techniques for farm nursery management? Can't we just wing it and hope for the best? Well, unfortunately, it's not that simple. Proper nursery management is essential to ensure healthy plant growth and a successful harvest. Let's explore some of the reasons why you can't just afford to get it wrong when it comes to farm nursery management.
Consequences of Poor Farm Nursery Management
If you don't give your nursery the proper attention it needs, you may end up with weak or stunted seedlings that are less likely to survive the transplanting process. 
These fragile plants are also more susceptible to pests and diseases, which can significantly reduce their chances of maturing into healthy crops. The result? Lower yields and decreased profits, which is the last thing any farmer wants.
Wastage of time, labor, and resources
Imagine putting all effort and resources into starting a nursery, only to end up with weak seedlings that cannot withstand transplantation.  This means you may have to start the process all over again, which can take a lot of time and resources. This could cause delays in planting and harvesting, ultimately affecting the productivity and profitability of your farm. 
It's like starting a race without properly preparing and stretching – you're bound to waste time and energy trying to catch up if you can catch up at all.
Loss of potential customers
When a farm produces inconsistent and unreliable crops due to crop failure caused by poor nursery management, customers may become hesitant to do business with them. 
This can ultimately lead to a loss of revenue and decreased profitability. It's important to remember that the nursery stage sets the foundation for the next few months of your farm's productivity, so it's crucial to take proper care and attention during this stage.
10 Essential Tips for Effective Nursery Management
As we've already mentioned, there are some tips and techniques that can ensure effective and successful nursery management. In this article, we're going to take a closer look at ten of these essential tips that can help your farm nursery thrive.  So, let's get started!
1. Good agriculture begins with good planning.
If you don't plan things out properly, they're bound to fail – and that's true for agriculture too. 
When it comes to managing a nursery, one of the most critical things is having a solid plan in place. This means figuring out what crops you want to grow and how many seedlings you'll need, as well as considering the resources you'll require to make it happen. 
It's important to consider if the weather is appropriate for the crops you plan to grow. Also, doing some market research can help ensure that what you're planning to cultivate will be in demand. 
Taking all of these factors into account will give you a good sense of what to expect in terms of yield and productivity.
2. It all starts with the seed
Having a solid plan is great, but if you don't have high-quality seeds to work with, your efforts might be in vain. 
The quality of your seedlings will have a direct impact on the success of your crops, which is why it's crucial to start with good seeds. Look for reputable suppliers and check the packaging for quality assurance labels. To ensure that your seeds are suitable and good to be planted, you can perform a seed test. Here's how to do it:
Start by taking a small sample of the seeds you want to test. To get accurate results, it's best to take at least 20-30 seeds.
Next, place the seeds on a moist paper towel and make sure they're well covered by folding the towel over them.
Keep the paper towel in a warm, dark place for a few days. The temperature should be around 20-25°C to help the seeds germinate.
After a few days, check the seeds to see how many have sprouted. Count the number of seeds that have germinated to calculate the germination rate.

If the germination rate is low, it could be due to poor-quality seeds or incorrect storage conditions. You may need to consider purchasing new seeds from a different supplier or ensuring proper storage conditions for future use.
3. The growing medium is just as essential as the seeds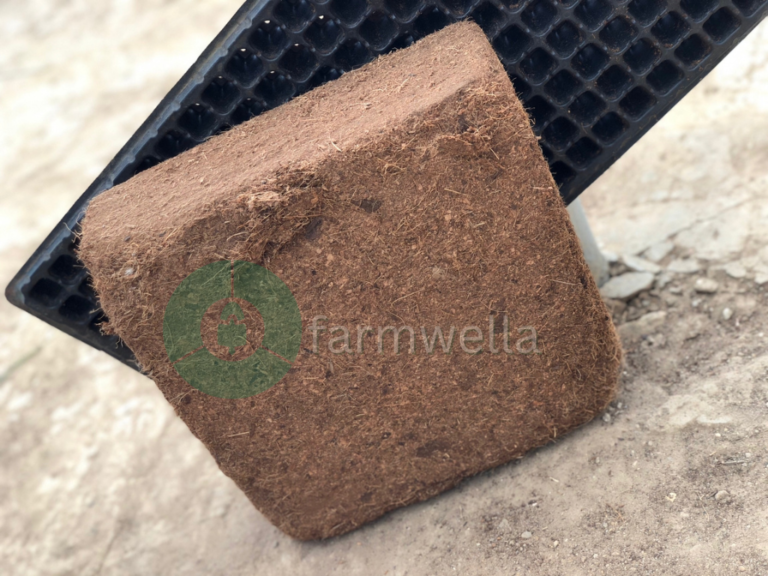 When it comes to growing healthy seedlings, selecting the perfect growing medium is crucial. It's the foundation on which your seedlings will grow and flourish, providing essential nutrients, support, and drainage to help them thrive.
Nowadays, there are many different types of growing media available, each with its unique benefits and drawbacks. 
Some of the most popular options include soil, soilless mixes, and coco peat. In fact, coco peat is a highly preferred option among gardeners and farmers alike due to its excellent water retention capabilities and ability to provide adequate aeration to the roots.
But with so many options out there, how do you know which one is right for your crops and local growing conditions? Well, that's where your research comes in. 
Take the time to learn about the different types of growing media available and their pros and cons. Consider factors such as the type of crop you're growing, your local climate, and the available resources in your area.
4. Optimal temperature and humidity are essential for plant growth
Different types of crops have different temperature and humidity requirements, and failing to meet these requirements can result in stunted growth or even the death of your seedlings.
That's why it's essential to keep a close eye on the temperature and humidity in your nursery and make adjustments as needed. This might involve installing a thermostat or humidity gauge to monitor levels or investing in equipment like heaters or humidifiers to maintain optimal conditions.
Regular monitoring and adjustment of temperature and humidity levels can be time-consuming, but it's a small price to pay for the rewards of a healthy, thriving crop.
5. Good light is essential to good growing.
Light is a critical factor in the process of photosynthesis, which provides plants with the energy they need to grow. Without enough light, seedlings may become weak and leggy or fail to grow all together.
Fortunately, there are many options available for providing light to your seedlings. Natural sunlight is a great source of light, but it may not always be available or strong enough. 
Artificial light sources, such as LED grow lights or fluorescent lights, can be used to supplement natural light or provide the primary source of light for your seedlings.
When choosing lighting for your seedlings, it's important to consider factors such as the type of crop, the size of your nursery, and your budget. Ensure that your seedlings receive the recommended amount of light for their specific needs to promote healthy growth and optimal yields.
6. Find the perfect water balance
Providing too much or too little water can lead to various issues that can affect the development of the seedlings. 
Overwatering, for example, can cause root rot, while underwatering can cause the plants to wilt and stunt growth.
To prevent these problems, it's important to monitor the moisture level of the soil regularly. 
One way to determine if the soil needs watering is by checking the top layer of the soil. If it feels dry to the touch, then it's time to water the seedlings. 
Keep in mind that different crops have different water requirements, so it's best to research and learn about the specific watering needs of the crops you're growing.
7. Fertilization is like a vitamin for plants
Fertilization plays a crucial role in ensuring the healthy growth of seedlings. Providing the right balance of nutrients through a well-suited fertilizer is key to their success.  However, over-fertilization can be harmful, so it is important to follow the manufacturer's instructions carefully.
It's worth noting that using organic products, such as manure, can be a great alternative to synthetic fertilizers. Organic products can provide the necessary nutrients and improve soil quality, which is essential for healthy growth. 
But if you decide to use synthetic fertilizers, be careful not to under-fertilize or over-fertilize your plants. Finding the right balance will give your seedlings the best chance of success.
8. Combat Pests and Diseases
Dealing with pests and diseases in your nursery can be a major headache for any farmer or gardener. 
These pesky intruders can quickly spread and damage or even destroy your seedlings. That's why it's crucial to have a pest and disease control plan in place to prevent or treat these issues.
One option is to use natural pest control methods such as companion planting or introducing beneficial insects that prey on pests. 
However, sometimes chemical pesticides are necessary to effectively control a pest or disease outbreak. In such cases, it's essential to use these chemicals carefully and in accordance with the manufacturer's instructions to avoid any harm to your seedlings or the environment.
9. Healthy farms start with good sanitation practices
Good sanitation practices are just as important on the farm as they are in our daily lives. Ignoring the care a nursery needs in terms of sanitation can cause a lot of problems down the line. So, what exactly are the practices you should follow on the farm? Here are some easy steps you can take:
Firstly, make sure to clean and sterilize all tools and equipment before use, especially if they've been used with infected plants. This will prevent any diseases from spreading to healthy plants.
Removing and disposing of any dead or diseased plant material promptly is also crucial. This will prevent any disease from spreading to other plants.
Using a separate watering can or hose for each area or plant is an excellent way to prevent cross-contamination. By doing this, you will prevent the spread of diseases and pests from one plant to another.
It's also important to keep the nursery area clean and free of debris, weeds, and fallen leaves. These can harbor pests and diseases that can quickly spread to other plants.
10. Learn from the experience
Take a moment to consider what didn't work well the last time and what changes you can make to improve your nursery's performance.
Keeping a record of every step in your nursery management is also essential. It allows you to track your progress and make informed decisions based on past successes and failures. By doing so, you can easily identify what worked and what didn't, and make the necessary adjustments.
It's also crucial to be honest with yourself about what you need to stop doing. Perhaps you were implementing a practice that didn't yield good results or was harming your plants. Identifying these practices and stopping them can be a crucial step in improving your nursery's performance.
Remember that mistakes happen, and they are part of the learning process. Embrace them as opportunities to learn and grow. With a commitment to ongoing learning and improvement, you can achieve better results in your nursery management.
Finally
Consistency is key in nursery management. Follow the tips and don't skip any steps. With time and dedication, your nursery can grow from nothing to something great.