If you have completed the land preparation procedure, the next stage is plot establishment, which is one of the processes of setting up the land for agricultural activities. Farmwella has practical actions to take when establishing the plot, so let's dig right into the process.
You may have done a terrific job of tilling the area during land preparation, but it's always better to be safe than sorry. To do this, you must further till the soil to ensure that all weeds and stumps have been uprooted. Tilling the soil will get the soil ready for planting or transplanting, and this can be done by using simple tools like cutlasses and hoes or by using cultivator machines.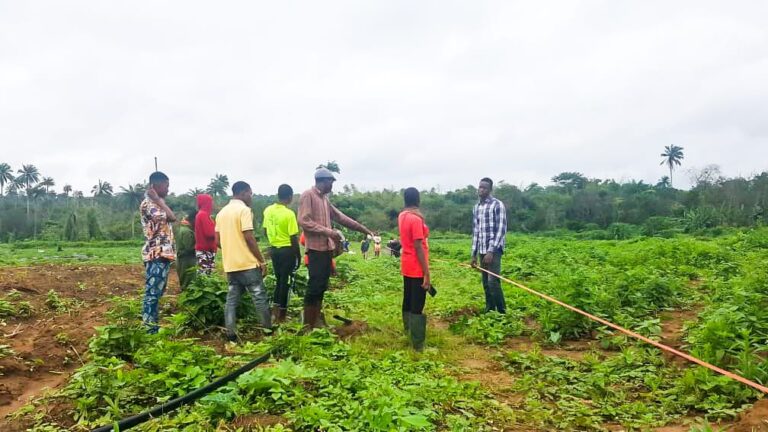 Farm mapping is a precision agriculture technique that allows farmers to create detailed maps of their property. These maps usually contain land boundaries, locations of buildings, fences, gateways, and water pipes located on a farm. Farm mapping is done on the farm to help you predict how your activities will develop over time.  It will give you an overview of features within your farm land., the topographical features of the land, the different soil types on the farm and their features. This will enable you to determine whether the farm's soil is suitable for the crop you wish to plant, whether it is prone to erosion, and the best ways to utilize it for better output. Get to know more about farm mapping, it benefits and how it can be carried out in this article https://farmwella.com/how-to-map-out-and-setup-a-farm-for-better-productivity/
3. Plot sizing/ Plot Demarcation
Through this procedure, your field is further divided into predefined portions for simplicity in cultivation and maintenance. Farmland is typically divided into hectares, acres, or other practical measurements based on the resources at hand, the overall size of the land, or the cultivation strategy to be employed.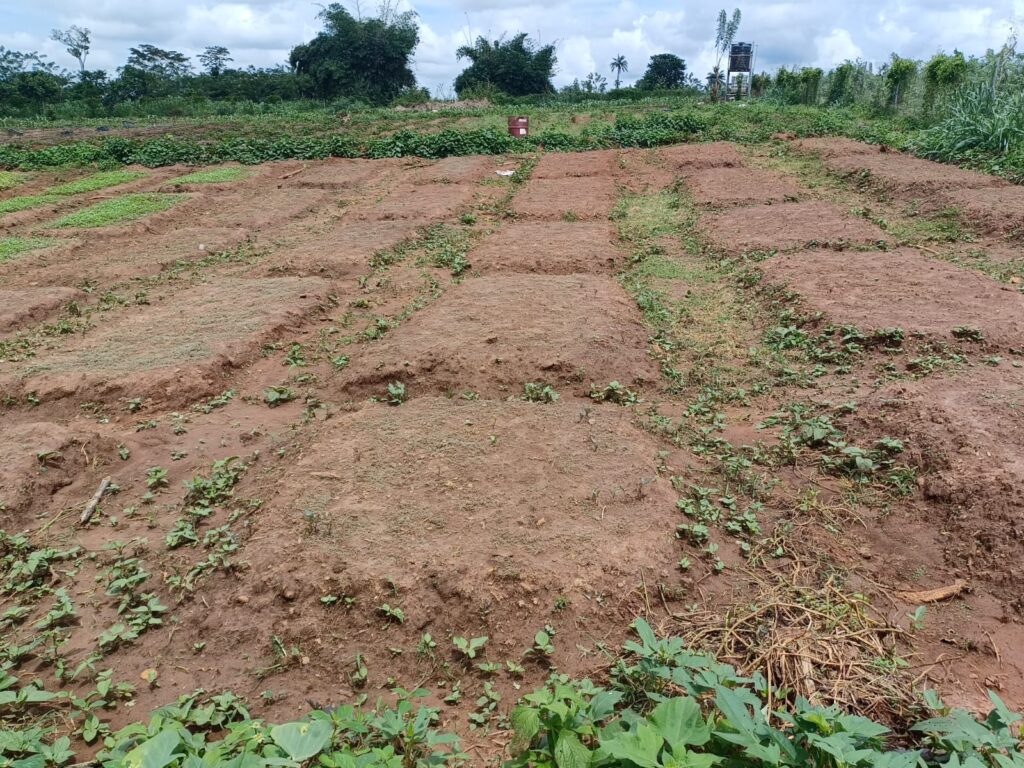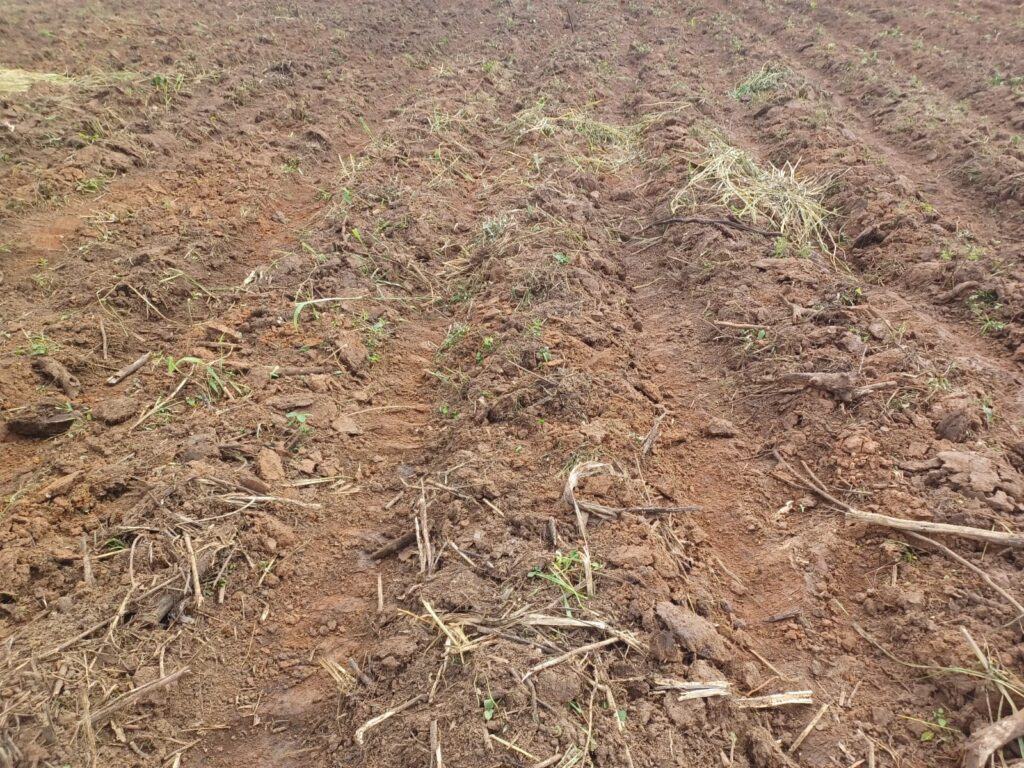 You might be thinking, "Why do we need to construct beds?" "Why not just plant directly in the soil?" The beds are made so that you can have a proper soil structure. 
Beds are classified into two types: raised beds and sunken beds. However, the form is dictated by the sort of crop put on the land.
Raised beds are the most commonly utilized beds by farmers and in Farmwella because they have a greater fertility rate owing to the regular, substantial volumes of organic material like mulches put on them, which retains the soil's structure, texture, and moisture.
Simple equipment like hoes, shovels, ropes, and pegs are used to measure and size beds. You may also prepare beds using a machine called a pulverizer, which is frequently employed in Farmwella since it makes the process simpler and faster. You should be aware that the length, width, and furrow may vary and may depend on the kind of crops that will be planted in the soil.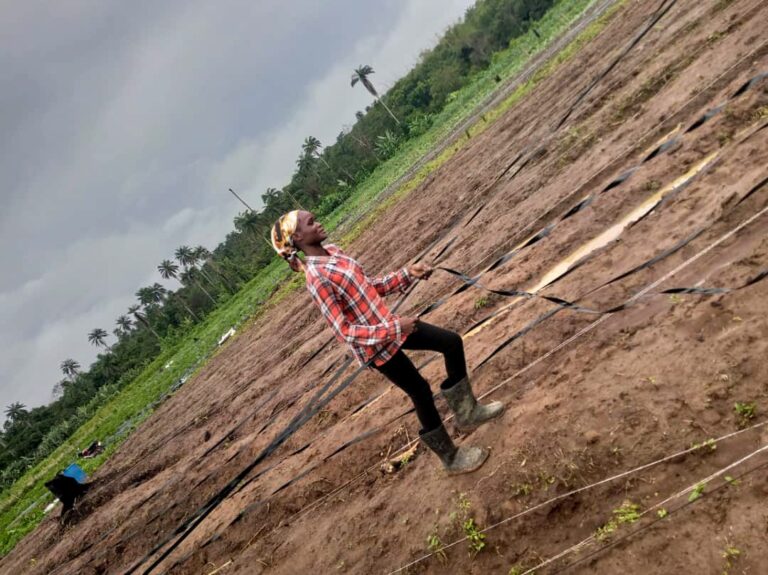 Water is essential to the soil and crops; crops must be supplied with a sufficient amount of water in order for them to yield optimally. Unfortunately, there is a climate and weather concern; natural rainfall is insufficient to irrigate the plants due to its inconsistency, so a farmer cannot rely entirely on natural water sources. Many irrigation systems have been devised to deal with this problem. 
There are different types of irrigation; manual irrigation, drip irrigation, furrow irrigation, and sprinkler irrigation, to mention but a few. At Farmwella, we use the drip irrigation system because of how it encourages optimal plant development and how it helps in maintaining adequate soil moisture levels. The following tools are required to set up a drip irrigation system: pipe, sockets, elbows and tee joints, air valves, lay flats, screw clips or clamps, drip tape, connectors, and joiners.
Before selecting any form of irrigation system, make sure you research your type of crop, your water supply, and your financial capacity to achieve it. Every type of irrigation has certain elements that are required.
Always keep in mind that the success and productivity of your farm can be affected by how well established your land is, so make sure all procedures are completed without any gaps. 
Farmwella continually hosts a Bootcamp to train farmers on how to set up their farms, including plot establishment. In this Bootcamp, we will walk farmers through realistic and practical actions they can take to set up a profitable farm. To register and save your spot, visit: